Prices Summer 2018
Room with Breakfast
per person and day
+ Joker Card


Euro 35.-
Appartement Lotte per day – 2 Persons
+ Joker Card
Euro 60.-
Appartement Nora per day – 4 Persons
+ Joker Card
Euro 90.-
Supplement for bookings than 2 days: 20 %
Prices include all taxes and charges,
without local taxfee (€ 1,10).
In order to cut expenses we don't accept creditcards.
Austrian Hotel contractuel conditions are valid.
Saalbach Hinterglemm
JOKER CARD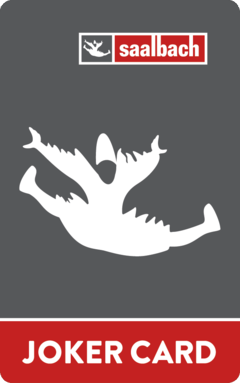 You cannot buy the Saalbach Hinterglemm JOKER CARD! It is included and valid as long as you stay in one of the JOKER CARD partner accommodations (Important notice: Not all, only those marked with the JOKER CARD logo are partners!)
You will receive your JOKER CARD directly after arrival from your accommodation provider. The JOKER CARD will be valid for the duration of your stay.
The Saalbach Hinterglemm JOKER CARD is the trump for a perfect Summer holiday and provides the opportunity for free admission for many attractions.
The first part of the list shows JOKER CARD partners which grant free access. Below you'll find bonus partners which offer discounts to JOKER CARD holders.
The following benefits are included in the Saalbach Hinterglemm JOKER CARD:
Uneingeschränkte Benützung der in Betrieb befindlichen Seilbahnanlagen in Saalbach Hinterglemm

Montelino's Erlebnisweg am Kohlmais

Berg Kodok am Reiterkogel

adidas Freeridepark am Reiterkogel

X-Line am Schattberg

Tennisplätze in Saalbach Hinterglemm

Talschlusszug

Teufelswasser im Talschluss

Wanderbus in Saalbach Hinterglemm

Freibad Saalbach

Hallenbad Hinterglemm

10 geführte Wanderungen pro Woche

Heilkräuterweg am Reiterkogel

Lichtbildervorträge

Heimathaus/Skimuseum

+ viele attraktive Ermäßigungspartner